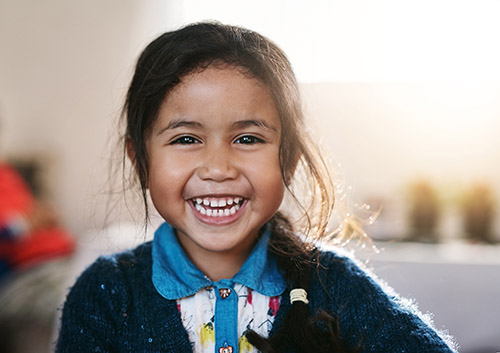 Pediatric dentists do everything they can to save teeth, but sometimes, a tooth is so damaged by accident, injury, infection, or decay that extraction is the only option. Or perhaps your child's wisdom teeth are starting to come in—and starting to cause problems. Or perhaps there is a baby tooth which has simply overstayed its welcome and is blocking its adult replacement.
While there are several possible reasons an extraction might be necessary, one thing is true for any extraction: you want to make sure that your child is as comfortable as possible and heals as quickly as possible after the procedure.
Aftercare and recovery time isn't exactly the same for every extraction. Whether your child's tooth is a baby tooth or a permanent one, whether it's a single tooth or several, whether it's erupted or impacted, whether a local anesthetic or sedation is recommended—these factors and more can make a difference in recovery time.
Dr. Marcela Mujica will provide you with clear, specific instructions for helping your child to a speedy recovery after an extraction. We'd also like to offer you some general aftercare ideas to make sure your child is as comfortable as possible while recovering.
Some bleeding is normal after an extraction. Follow your dentist's instructions carefully to minimize bleeding at the extraction site. Your child will probably need to keep a gauze pack in place for as long as directed to reduce bleeding and to help a clot form. If bleeding is heavier than expected or goes on longer than expected, call our Charlotte or Indian Trail office.
Swelling is a normal response to extractions. Your dentist might suggest cold compresses to help reduce swelling immediately after the extraction. If you don't have an ice pack, ask whether a bag of frozen peas or corn can substitute.
With any cold compress, it's important to protect your child's skin from injury. Follow your dentist's suggestions for application and be sure not to exceed the time limits recommended. And don't apply a compress directly to your child's face—wrap a towel or cloth around the bag or pack to protect the skin.
The area around the extraction shouldn't be disturbed or touched. The blood clot which forms after an extraction protects the area from irritation and infection caused by food particles and bacteria. If a clot is dislodged accidentally, it can lead to a condition called dry socket, which can be very painful.
This means no brushing near the extraction site, and no heavy rinsing or spitting for as long as directed. If your child is younger, you might need to help with brushing over the days following to make sure those sturdy bristles don't get close to the extraction site before it's healed.
Have a supply of your child's favorite comfort foods handy while healing, such as cream soups, mashed potatoes, scrambled eggs, gelatin, yogurt, and smoothies. Hot and cold foods can be irritating, so stick to cool or lukewarm foods for the first few days. Encourage your child to drink lots of liquids, but nothing carbonated. And do wait until any numbness wears off before giving your child chewable foods to avoid biting tongue or cheeks.
Remove spicy favorites from the menu, which can be irritating, as well as chewy, crunchy, or jagged foods like crackers, since tiny, sharp bits of food can make their way inside the site. Remind your child to chew on the side of the mouth opposite from the extraction site. And, since suction is an all-too-easy way to dislodge the clot over the extraction site, no straws!
Make sure your child rests and takes it easy after the procedure. Exercise, lifting, even bending over can dislodge a protective clot, so re-schedule any physically demanding sports and activities until your child is given the dental all clear.
If your child has been given a prescription for pain medication or antibiotics, follow the instructions as directed. Your dentist might recommend age-appropriate over the counter pain relievers to have on hand. For severe or continuing pain, call your dentist or oral surgeon right away.
An extraction can be worrying for both patient and parent, so talk to Dr. Marcela Mujica for the best ways to make this experience a positive one for your child before, during, and after treatment.
Pediatric dentists are experts in children's extractions, while ensuring that the procedure is as stress-free and as comfortable as possible for your child. Follow their instructions for aftercare, and you'll ensure your child's recovery is as stress-free and comfortable as possible, too.